Ready to learn more?
How Can You Log Into A Federal Direct Account?
In order to log into the Federal Direct account, you must have registered for an account. Once registered, you log in by doing the following things:
Step 1
Go to www.federaldirecttax.com from your preferred browser.
Step 2
Hit the "Login" button.

Step 3
Type in your ID, password and the confirmation code, and hit "Login."

Should you have typed in the details correctly, you'll be able to access the account.
What Happens If You Forget The Password?
If you cannot remember your password, you will need to call the Federal Direct customer support helpline at 866-357-2052 or visit the website and hit "support" on the left-hand side of the page.

Or you can use form to retrieve your password.
Step 1
Click on Login button, then click "Forgot my password".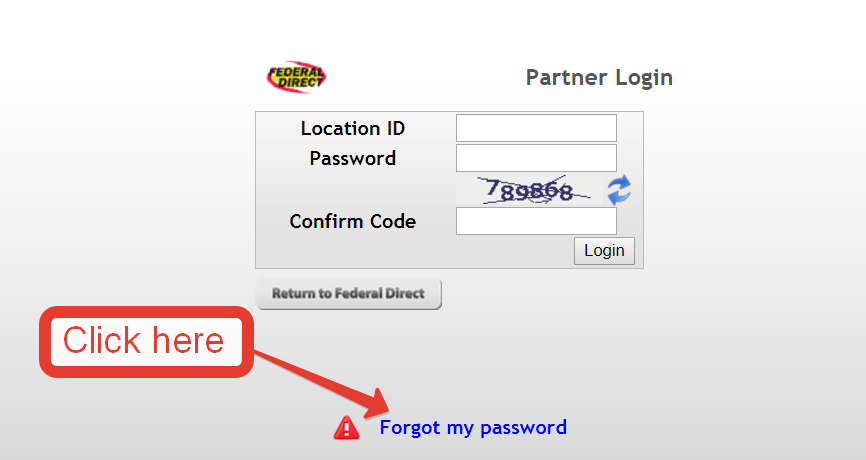 Step 2
Enter your username, email, click Send My Password button and follow instructions to retrieve the password.

Enrolling With Federal Direct
In order to enroll with Federal Direct, you'll need to reach out to its customer support. You can do this at any time, and they will assist you in setting up an account. Once you do that, you can use the login details to access your account.
Why Choose Federal Direct
An account with Federal Direct means having access to an array of partnership packages and choosing the one that best fits your particular needs. If you're unsure about something, you can scroll over to the headings to get a description. You may also reach out to customer support through their Facebook and Twitter page. What are some of the benefits you'll see with Federal Direct?
Tax office marketing
Rapid tax refund choices
Tax preparer training
Industry leading support and tax software