NetCredit Uses Monthly Income To Determine Loan Eligibility
What should you know about NetCredit and its services?
Logging Into The NetCredit Account
If you're already a NetCredit customer, you just need to log into your account to apply for another loan or check on the status of an existing one. You can do this by doing the following:
Step 1
Go to www.netcredit.com.
Step 2
Hit the "Sign In" button at the right-hand side of the page. Here a "login" box will be displayed.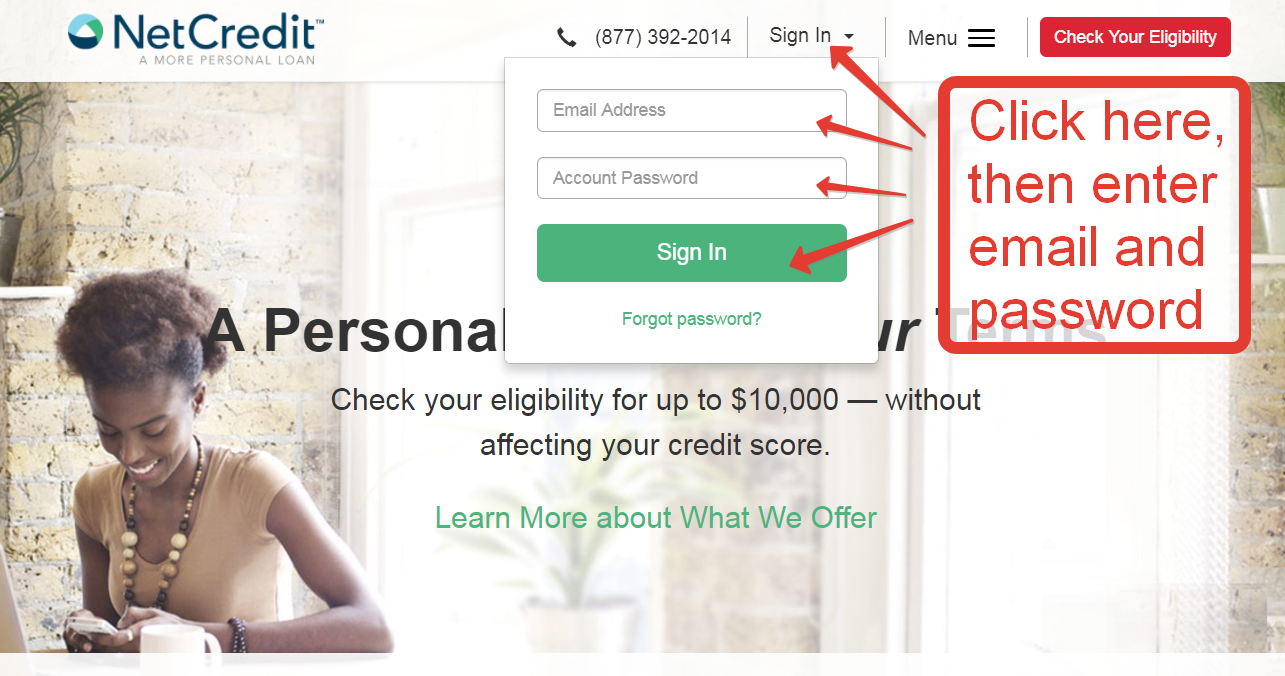 Step 3
Type in your email address and password and hit the "Sign in" button to get into your account.
When You Need Another Password
It's not uncommon to lock yourself out of your account, and if you do that, you'll need to get another password. This is easy to do. You just need to do the following things to make it happen:
Step 1
Hit the "Forgot Password" button located under the password field.

Step 2
Input your email address in – the one you used to sign up for the account. Hit the button "Reset My Password."

The provider's system will send you an email with instructions to set up a new password.
Can A Non-Member Apply For A Loan
Only members of NetCredit can apply for a loan. Therefore, in order to apply for a loan, you must set up an account. You can check on your eligibility status before signing up for a personal loan, but you must sign up to get the application submitted and processed.
Step 1
Go to the homepage and choose the amount you'd like to borrow. Hit the "Check Your Eligibility" button.

Step 2
Provide the following information – loan purpose, account creation, personal information and continue with the income information.

Step 3
There are three additional steps you must do before your loan is approved and cash is deposited into the account.
Why You Should Consider A NetCredit Account
After you've signed up for a NetCredit account, you'll be privy to a host of benefits the provider has to offer including but not limited to:
Ability to re-establish your credit score easily
Apply for loans you can reasonably afford to pay back
Rapid payday loan processing service